Lease End Guide
Approach your lease end with confidence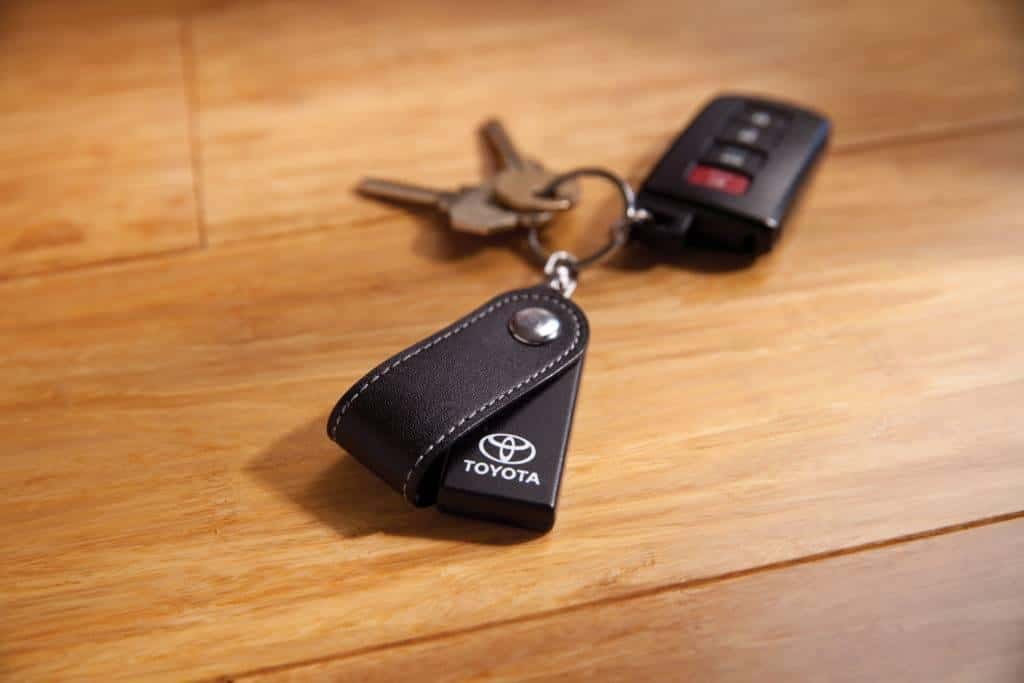 So, you're nearing the end of your Toyota lease, and wondering, "What comes next?" Maybe you'd like to experience more of what you love about your Toyota, but this time with an emphasis on sporty, or maybe you're set on staying behind the wheel of your existing vehicle. Whatever you choose, we're here to make the move as easy and convenient as possible. In the months before your lease comes to an end, you'll receive several communications from Wilsonville Toyota about your options and obligations. During this time you can choose a path that best fits your needs and lifestyle.
1. Choose a New Toyota
2. Buy Your Current Toyota
3. Sell us Your Toyota
4. Turn in Your Toyota
It may seem like the end of the road with your current lease, but it's really just the beginning. Relationships are important to us at Wilsonville Toyota, and that's why TFS rewards the kind of loyalty that brings drivers like you back to us year after year.
Remember to review the TFS Wear and Tear Use Guidelines which will help you understand what to expect here at the dealership should you choose to turn in your vehicle. You can also view the lease-end brochure for more details about what to expect at the end of your lease.
For more personalized lease-end service, call our store and ask for your original salesperson, or talk to our Finance Director at1-877-582-9040.
1. Choose a new Toyota
Whether you're eyeing a new Toyota model or simply want a brand new version of what you're driving now, Wilsonville Toyota has options for you.
STEP 1. Begin your search online. Check out our new inventory page to view the full lineup of Toyota vehicles and specials. You can also stop by our dealership to get up close and personal with the latest models.
STEP 2. Go for a test drive. Take the vehicle for a test drive. Once you've made your choice, Wilsonville Toyota can offer assistance with all of your financing and leasing needs.
STEP 3. Turn in your current vehicle. Go to Turn In Your Toyota for instructions on how to return your currently leased Toyota.
2. Buy your current Toyota
If you're ready to make your leased Toyota your very own, there's no need for a wear and use evaluation or extra mileage charges. In other words, you don't have to stop driving your current Toyota – simply follow these steps and get ready to go.
STEP 1. Determine your payoff amount. View your lease vehicle's payoff information in your account, or call 1-877-582-9040.
STEP 2. Contact Wilsonville Toyota. Our Finance Director will review the details of your lease agreement with you and provide any required documentation.
STEP 3. Choose your purchase method. Your Wilsonville Toyota Customer Advocate will present several payment options1 that won't break the bank for you. Or, you can just write a check for the balance. Be sure to ask about ToyotaCare Vehicle Service Agreements for extended protection beyond your vehicle warranty.2
1 On approved credit.
2 Time and mileage limits apply to ToyotaCare.
3. Sell us your Toyota
STEP 1. Review the terms of your lease on your account online with TFS or call our Finance Director at 1-877-582-9040 to find out your vehicle's expected value.
STEP 2. Determine if your vehicle has any "lease equity." At the start of every lease agreement the vehicle is assigned a predicted residual value, or expected value it will have at the end of the lease term. Expected value is based on the vehicle make and model and on how you drive it. If you drove the vehicle fewer miles than were allotted in the lease agreement, if the vehicle you leased became more popular during the leasing period, or if you took great care of it you may have lease equity. Lease equity is the difference between the vehicle's true value versus it's expected value. Wilsonville Toyota can help determine the true value of your vehicle if you bring it for an inspection, or you can schedule an inspection through TFS.
STEP 3. Decide what to do with your lease equity. Much like a trade-in, you can use any lease equity you have and put that money down on the lease or purchase of a different vehicle, but unlike a trade-in you have the option of pocketing the lease equity in cash.
Are you a repeat customer?
Time to lease or buy a new vehicle? When was the last time your finance company gave you something back? Good news, TFS rewards repeat customers!
If you've previously leased or financed a vehicle through TFS, you may be eligible for special benefits through the Encore Program. What's more, the disposition will be waived at the end of your existing lease when you return to lease or finance your next eligible vehicle with TFS through Wilsonville Toyota.*
*The disposition fee is applicable to lease contracts signed after January 3, 2011. Offer to waive disposition fee for qualifying customers in good standing with TFS who purchase/lease a new or certified used Toyota or Scion vehicle or a new or certified pre-owned Lexus vehicle within 30 days of lease return.
Finance, lease, vehicle and payment protection products are available through Wilsonville Toyota, and Toyota Motor Credit Corporation and Toyota Motor Insurance Services, Inc. respectively. Finance products available on credit approval. Not all applicants will qualify. Programs may not be available in all areas. Programs are subject to change or termination at any time. Please see your dealer regarding finance terms, restrictions, state eligibility and program compatibility. Toyota Financial Services is a service mark of Toyota Motor Credit Corporation and Toyota Motor Insurance Services, Inc.
---
Wear and Tear Guidelines
Normal wear and tear to a vehicle is to be expected. We can all relate to the occasional scratch and scuff. However, mileage in excess of that specified on your lease agreement and damages exceeding normal wear and use may be chargeable to you upon the end of your lease.1 To help avoid any surprises and charges, review Toyota's general Wear and Use Guidelines below for examples of what is considered excessive.2
INTERIOR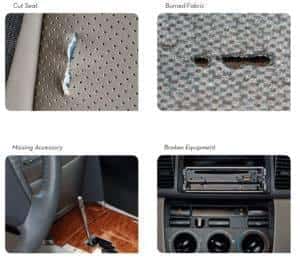 Seat and Trim
·         Cuts, tears or an accumulation of burns or stains larger than the size of a credit card
Equipment, Parts and Accessories
·         Missing keys/remotes
·         Missing parts or accessories (shifter knob, headrests, tonneau/cargo cover, etc.)
·         Inoperative, malfunctioning or broken parts or equipment
·         Any modifications not on the vehicle at lease inception
EXTERIOR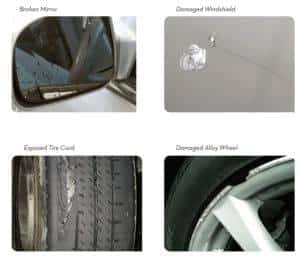 Tires, Wheels and Wheel Covers
·         Tires with exposed cords
·         Tires or wheels that do not match or meet manufacturer's guidelines for safe operation
·         Missing or damaged wheel covers
·         Wheel gouges greater than 1″
Glass and Lights
·         Windshield cracks, stars or bullseyes
·         Windshield scratches greater than the size of a credit card
·         Damaged or broken glass
·         Bent, broken or missing lights, turn signals, mirrors or lamps
Paint and Body
·         Scratches greater than the size of a credit card that penetrate the paint
·         Dents greater than the size of a credit card
·         Accumulation of damage covering a majority of a panel requiring repair or replacement of entire panel
·         Previous repairs performed poorly or unrepaired collision damage
Miscellaneous
·         Damage to frame structure that affects the integrity of the vehicle
·         Damage from flood, water, hail or sand
·         Damage resulting from improper vehicle maintenance

1 All charges may be subject to sales tax.
2 This is intended as general guidance only. State law and the terms of your lease may vary your rights and obligations regarding excess wear and use and mileage. Please refer to your lease agreement for a description of your rights and obligations upon termination of your lease. Toyota Financial Services may change its wear and use standards consistent with the terms of your lease agreement.
You can terminate your lease at anytime. However, early termination can result in a substantial cost.