5 Hiking Trails in Oregon to Check Out this Spring
Chances are, if you were driving down the Historic Columbia River Highway last summer, you encountered at least one "Road Closed Ahead" sign.
Many hiking trails were shut down due to the damage from the unforgettable Eagle Creek Fire that set the Columbia River Gorge aflame in the fall of 2017. Luckily for us, many volunteers gathered to restore some of Oregon's favorite hiking trails.
Here are some of our favorite hiking trails that are now back open.

---
Angels Rest
Elevation change: 1584 ft.
Distance: 4.8 miles
Difficulty: Moderate
Family Friendly: Yes
A gorge favorite, Angel's Rest is a moderate out-and-back trail. Hiking to the top and back will equate to about 4.8 miles, with some moderately steep but bearable inclines. On the way up, you'll pass two waterfalls and at the summit you'll be able to see an incredible 270 degree view of the Columbia River Gorge. The view from the peak is definitely worth the occasional huffing and puffing endured on your journey to the top.
While this is a rather family-friendly hike, there are some cliffs and drop-offs at the top, so keep an eye on junior hikers.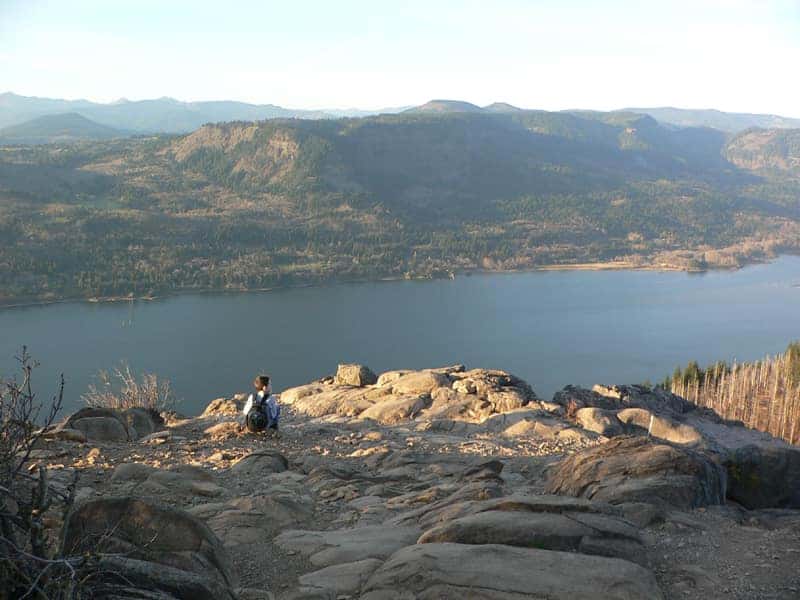 photo courtesy of: https://www.oregonhikers.org/
---
Dog Mountain Hike
Elevation change: 2800 ft.
Distance: 1.5 – 6.9 miles
Difficulty: Difficult
Family Friendly: No
Enjoy the beauty of Oregon willdflowers when you visit Dog Mountain during the spring to early fall months. Dog Mountain is known for the extravagant yellow balsamroot that makes an appearance in late spring, creating a stunning view.
If you're looking for a quick afternoon hike, there's a lower viewpoint that's about 1.5 miles  long. If you're in the mood for a more challenging hike, you can continue all the way up to the summit loop and back down to the trailhead.
Once you hike through the woods at the beginning of the trail head, you'll meet two signs, one marked "more difficult" (the older trail) and one that says "less difficult".
Both of these trails will lead you to the top summit, but the "more difficult" route will take you along the older trail, while the "less difficult route" will take you past the lower summit and up to the top as well, providing better views along the way (pro tip).
This trail gets pretty busy during the spring and summer months, so our friends at OregonHikers.org recommend getting there before 8:00 am or after 5:00 pm to avoid difficulty finding parking.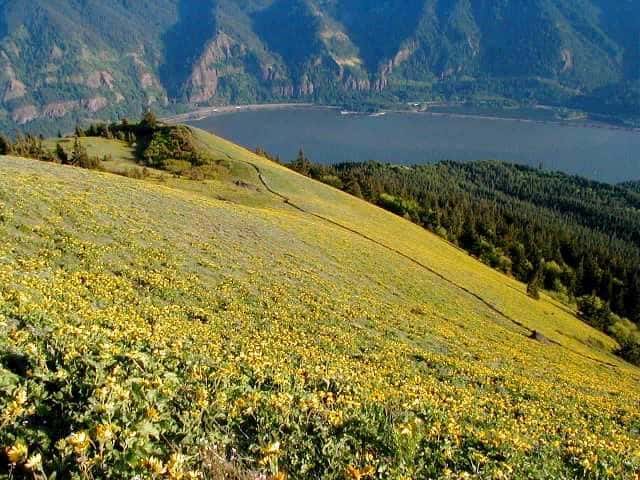 photo courtesy of: https://www.oregonhikers.org/
---
Multnomah Falls Hike
Elevation change: 870 ft.
Distance: 2.4 miles
Difficulty: Easy/Moderate
Family Friendly: Yes
Are you really an Oregonian if you haven't tackled Multnomah Falls yet? Quite possibly one of Oregon's most famous destinations, Multnomah Falls is a beautiful 2.4 mile out-and-back hike. You'll want to get an early start on this one, because the Multnomah Falls freeway exit is often closed once the parking lot reaches capacity (seriously, this happens like all the time).
Multnomah Falls is the tallest waterfall in Oregon and it is often packed with tourists and locals alike. There are three drops (upper falls, main falls and lower falls) along the route, but the upper falls are truly the most breathtaking, with a view straight down the 635 foot waterfall.
Once you reach the bridge, its another moderately-steep mile to the very top of the waterfall. Once you reach the top, there's a fenced-off viewpoint that looks straight down the falls.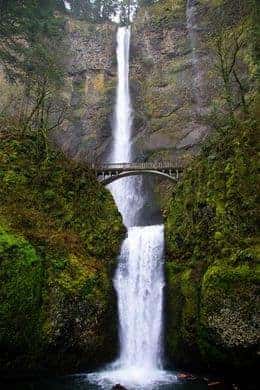 photo courtesy of: https://www.oregonhikers.org/
---
Latourell Falls
Elevation change: 625 feet
Distance: 2.4 miles
Difficulty: Easy/Moderate
Family Friendly: Yes
Enjoy a stunning waterfall almost immediately when you visit Latourell falls. This 2.4-mile loop that showcases the beautiful waterfall pretty early on along the route.
Just above the trailhead,  you can see the beautiful Latourell falls. Once you continue up the hill, the loop brings you around to the two-tiered upper Latourell falls.
You'll cross four wooden bridges along the main route, before reaching the main viewpoint where you can look out upon Table Mountain, Rooster rock and more, before descending back to the base of the falls.
Once you're back down to the Historic Columbia River Highway, you can cross the street and walk down some stone steps to Guy W. Talbot State Park.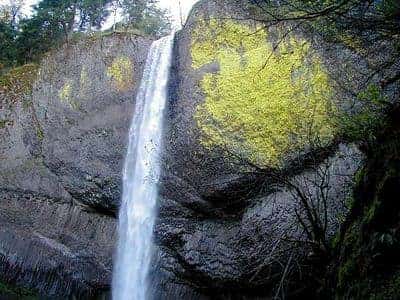 photo courtesy of: https://www.oregonhikers.org/
---
Wahkeena Falls
Elevation change: 565 ft.
Distance: 1.4 miles
Difficulty: Moderate
Family Friendly: Yes
A quick quarter mile walk and you'll reach Wahkeena falls. But the beauty doesn't end there. Continuing along the trail will lead you to a viewpoint at the top that boasts beautiful views of the Columbia River Gorge.
Continue along to the upper tier of the falls to enjoy the full view of the beautiful falls. Known as the "Necktie", this unmaintained route is not one for the children or dogs. This trail is often overgrown and might be slippery (after the aftermath from the 2017 fires), so make sure only experienced hikers take this route.
While this isn't necessarily the most difficult hike, there are about 11 switchbacks before reaching the Lemmons viewpoint towards the top. From here, you can the rough trail along to The Necktie. Please remember that The Necktie is not suitable for children or dogs.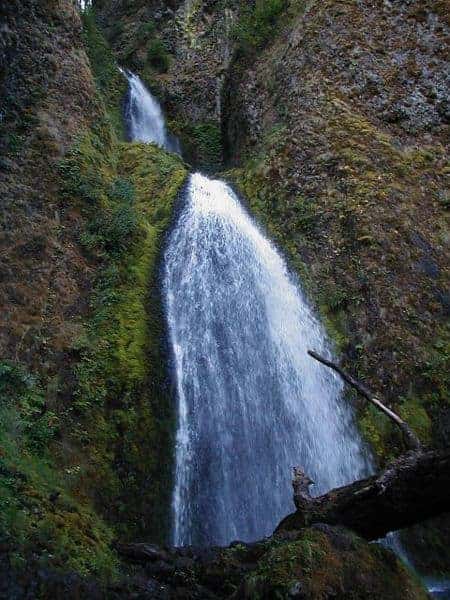 photo courtesy of: https://www.oregonhikers.org/
Hiking Tips:
Always be prepared! Here's a list of a few things to always bring on your trip to the Gorge:
WATER, WATER, WATER. Always make sure to bring plenty of water on your trip!
Snacks – granola bars, fruit, sandwiches, whatever your heart desires
Sunglasses and sunscreen
Gatorade/any other sports drink fueled by electrolytes
A cell phone – in case of emergency (and lets be honest, for those fire Instagram pics)
One additional tip: make sure you don't leave ANY valuables in your car. If you do happen to have valuables in your car, make sure they are securely placed in your trunk out of sight. Thieves often prey on the vehicles of local hikers, so try to avoid leaving anything unattended in your vehicle. Happy Hiking!