Do I Need Winter Tires?
We've just hit the fall season, which means a ton of rain (and likely snow) is on its way to Oregon. And every fall and winter, drivers find themselves asking a question that's as old as time: "Do I need winter/snow tires?"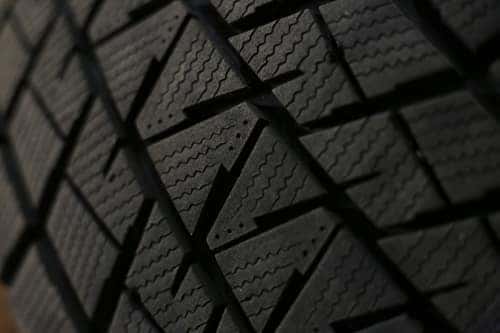 The short answer: Yes. If you want to drive safely in the increasingly slick Oregon winters, you'll likely want to equip your vehicle with a set of winter tires. We'll get into why that is—as well as the reason why all-wheel drive (AWD) doesn't always guarantee safe driving—shortly.
But before we start, we want to give a quick shout-out to our knowledgeable parts department manager, Kevin Hoffman, who took the time to give us the best information available on keeping you safe during the coming winter months.
Winter Tires vs. All-Season Tires
So what's the primary difference between all-season and winter tires? All-season tires are better for general-purpose driving and provide ideal traction when used in temperatures above 45 degrees Fahrenheit. Winter tires, on the other hand, are constructed to provide optimal results in temperatures below 45 degrees. This is because winter tires utilize a softer rubber compound than their all-season counterparts.
What does this mean for you? Because of their specific rubber compound, winter tires can remain relatively soft while driving in cold conditions, which results in superior road grip. All-season tires, on the other hand, end up losing a lot of control in cold weather because they harden significantly when temperatures fall below 45 degrees. Once they're solid, the tires have a difficult time gripping the road and, therefore, end up slipping much more easily than winter tires.
Do I Need Winter Tires?
Winter tires are typically recommended in Oregon's wet climate. With so much rain and sporadic snowfall, we find it's far better to be safe than sorry. And while AWD systems offer better traction than two-wheel drive (2WD) systems, they don't provide the same level of security as a reliable set of winter tires.
Why isn't AWD as safe as a set of winter tires? Because AWD systems don't help your vehicle stop; they only help your vehicle go. This means that although an AWD-equipped vehicle may be better at driving up a slippery hill, it still won't be able to brake safely if you're driving downhill or in other hazardous conditions.
When Should I Put On and Take Off My Winter Tires?
Winter tires are fantastic in cold weather for the same reason they perform poorly in warm weather. Since the rubber compound in winter tires enables them to stay soft in freezing temperatures, they're typically too soft when temperatures exceed 45 degrees. Simply put, you don't want to use winter tires year-round. We recommend installing your winter tires in October and removing them mid-March. These times can vary depending on the year's weather, but we've found this time frame to be ideal for Oregon drivers.
Tip: If you're ever concerned about local weather conditions, the Oregon Department of Transportation (ODOT) often distributes information on the correct times to install and remove traction equipment. You can also head over to TripCheck (which you can find here) to view current road conditions and safety recommendations in Oregon.
Bonus tip: Try to get your winter tires early. Once fall hits it becomes increasingly difficult to keep up with the demand for winter tires, and as a result, many drivers are left without the ability to commute safely. If you think you're going to need winter tires this year, give your go-to dealer or other tire supplier a call to find out if they have the right tires for your vehicle.
Studded Tires vs. Studless Tires
Studded tires should be used sparingly. While they can provide superior traction in extremely icy conditions, studded tires can cause some serious road damage (which you may have already assumed after seeing the picture below).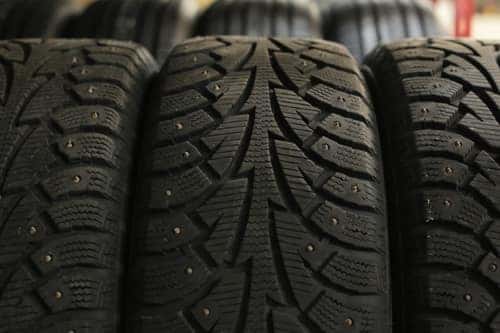 It should also be noted that studded tires don't perform well in all winter conditions. They may work while driving over large sheets of ice, but they typically don't provide many benefits in regard to more common driving hazards such as rain. You'll likely want standard winter tires instead since they tend to get positive results in a wide variety of winter driving scenarios.
It's also important to note that studded tires may be strictly prohibited in your area depending on your location and the time of year. ODOT should provide this information to Oregon residents as the area cools down in the fall and winter months.
What Are the Best Winter Tires to Use in Oregon?
It's hard to choose one ideal tire brand, simply because there is so much variety in size, quality, and price. For instance, the price of a complete tire set (fully installed) often falls between approximately $500 and $1,000. If we had to choose one brand, however, we'd recommend Blizzak. Our parts department manager has compared many tires over the years, and he's found that Blizzak tires provide phenomenal traction even in the toughest winter driving conditions.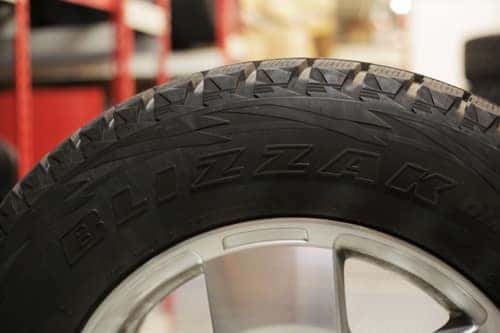 It's good to keep in mind that Blizzak tires can be especially difficult to find in the winter months because of their popularity. Therefore, it's even more important to try to get these tires early if you decide they're right for your vehicle.
The following is also incredibly important: Before shopping for tires, you need to know what tire size corresponds to your vehicle. If you're unsure, you can use our tire shopping tool here to find your vehicle's tire size as well as which relevant brands are currently available.
AutoSock
Don't be concerned if you think you misread that; AutoSock is a real product, and it may become a new major player in the world of winter driving. It sounds weird, right? But anyone who's attempted to install a set of tire chains will likely jump at the opportunity for a more practical alternative. And like studded tires, chains are known for causing horrendous road damage during the winter months.
Enter AutoSock, a relatively new traction device that wraps around your tire with ease and doesn't pulverize the many roads we use on a daily basis. It sounds absurdly convenient, so this year we'll begin selling AutoSocks instead of chains in our parts department. We hope this switch helps to combat road damage and creates easier installation experiences for Oregon drivers. If this interests you, feel free to give us a call at (503) 582-9040 and ask us about AutoSock. You can also visit their website here for more info.