Dude, Where's My Car Jack?
-Nick Borges-Silva for Wilsonville Toyota
There are far better times to search for your vehicle's jack than when you're on the side of a sopping Oregon road with a tire that looks like it was ravaged by the raptor squad from Jurassic Park. Unfortunately, your jack's location isn't always obvious, so we pulled some information together in hopes that you never find yourself in the above situation.
As you may expect, jack locations aren't universal across every make and model. Heck, some cars don't even come with jacks. But for those that do, the jack is likely to be located in the following locations:
Under the Floor of the Trunk
The most common location for car jacks—especially those belonging to smaller vehicles such as the Corolla, Camry, Prius, and RAV4—seems to be beneath the floor of the trunk. Typically, the floor of the trunk functions as a cover flap that can be lifted to expose an extra storage area; this is also a common storage location for spare tires. Sometimes the jack is held down by a screw mechanism or rubber band so it stays secure in its compartment. These must be removed before you can access the jack.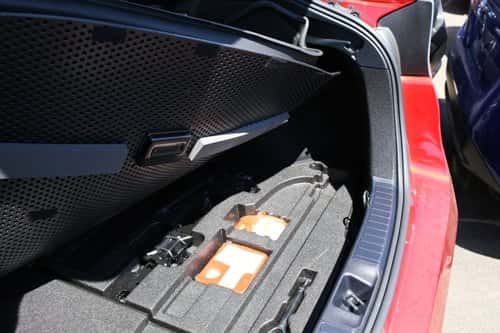 Sometimes multiple flaps need to be pulled back to access your jack's storage compartment. For instance, the Highlander's jack is hidden behind one more flap than in the smaller vehicles mentioned previously. Below is a photo of the Highlander's jack hidden behind an extra cover flap away from the rest of the jack components.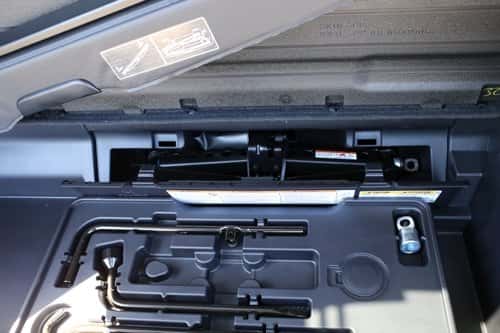 In the Trunk's Side Compartment
Some larger vehicles, such as the 4Runner and Sienna, have side compartments in their trunks that house their jacks and tools. These compartments can usually be accessed by simply removing the small door that helps keep the jack in place.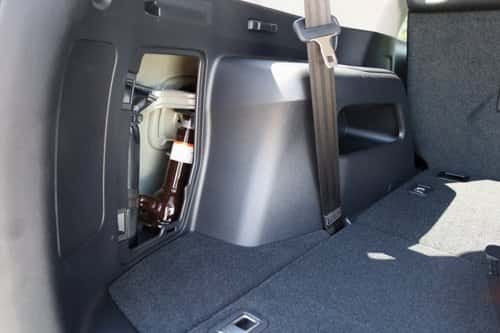 Under or Behind the Seats
Trucks, such as the Tundra and Tacoma, tend to have their jacks stored in compartments under or behind their seats. If your truck has two rows of seats, the jack can likely be found under or behind the second row.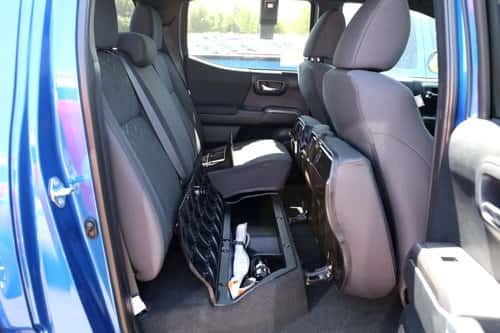 Certain models, such as the Toyota Yaris, are known for having their jacks stored in seemingly odd places. The Yaris's jack is in fact located under the driver's seat. The location may not be obvious because the jack is hidden by a large piece of plastic. Start by shifting the driver's seat forward as much as possible in order to easily access the storage area. The plastic piece must then be removed by squeezing its two tabs together and pulling it out before the vehicle's jack becomes fully visible.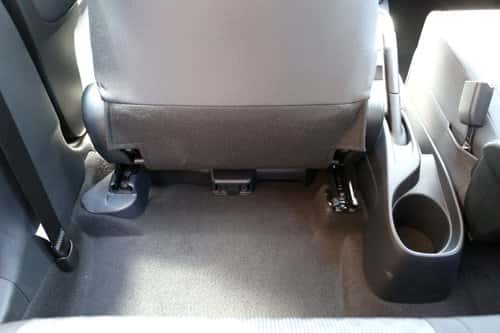 Safety and Operation Tips
Regardless of your jack's location, it's important that you use your jack correctly and safely. Lifting a vehicle off the ground exposes those nearby to potential danger, so be sure to read your jack's operating instructions carefully.
Drivers should make sure their vehicle is parked on a flat surface before attempting to lift it. Ideally, anyone operating a jack will also use jack stands to further support the vehicle's weight; this way, the vehicle can still be upheld if for any reason the primary jack falters.
That's all we got. But if you stumble across any locations we didn't cover, leave a comment so your fellow drivers can find and use their jacks hassle free.