How Does Entune Audio Work?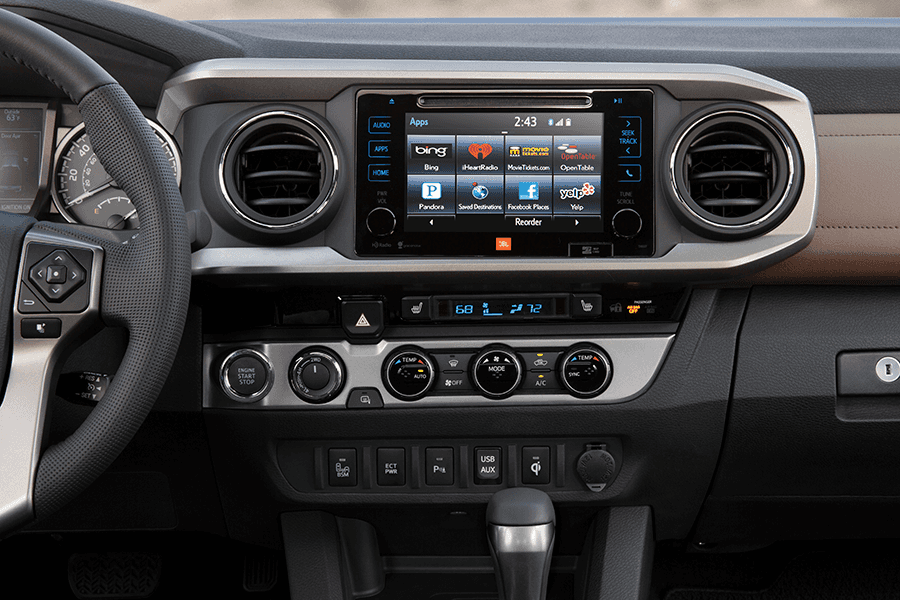 So, you just bought a shiny new Toyota, or maybe you've had your Toyota for a while and just haven't mastered the art of Entune quite yet. If you're not totally sure how to set up and navigate all of the fancy features that Entune has to offer, you're in luck. We have curated a list of common Entune questions and answers. Have a question that wasn't on our list? Comment on this post and we will be sure to answer as quickly as possible!
What Entune system do I have?
Knowing what Entune system you have is the first step in putting your Entune system to good use. New Toyota vehicles come equipped with one of three Entune 3.0 systems: Entune Audio, Entune Audio Plus and Entune Premium Audio. While these multimedia face plates vary from model to model, they have some similarities across models. To identify which Entune system you have, first check if your Entune system has small "SiriusXM" and "HD Radio" icons beneath the touchscreen. If these icons are not located on your Entune System, you have Entune Audio. Next, look for a button labeled "MAP". Entune Premium Audio has a "MAP" button next to the touchscreen. While Entune Audio Plus looks very similar to Entune Premium Audio, it does not have the "MAP" button. Here are examples of Entune Audio, Entune Audio Plus and Entune Premium Audio multimedia systems for the Toyota Camry:

Which Entune has navigation?
While each Entune 3.0 system has some sort of navigation ability, navigation varies depending on which Entune System your vehicle is equipped with. Both Entune Audio and Entune Audio Plus come with connected navigation, which requires the use of a smartphone. This can be done by downloading the "Scout GPS Link" app and connecting your smartphone via USB. Entune Premium Audio, however, comes with integrated navigation. This system helps you navigate the road through turn-by-turn directions with live updates. Integrated navigation doesn't require your smartphone to be connected.
How do I register Entune?
To begin using Entune and all of its great abilities, you must first register your Entune system. Follow these steps to register your Entune system:
Download the Entune 3.0 App Suite Connect app on your smartphone
Navigate to www.ToyotaOwners.com and click the "join now" button at the top right of the website
Fill out the required information on the page and click the "create account" button
You should now receive an email – click the "activate my account" button to activate your account and to finish the registration process
Fill in the remaining information and click "create account"
Add your VIN number to the required field box and then click "submit"
Confirm your Toyota dealer and then add your vehicle
You will now be taken to a page about connected services – confirm the connected services displayed and click "learn and enroll"
Conform which services you'd like to use and click continue
Accept the opt-ins and click "continue"- make sure you check the box on the page, this will ensure that the services are turned on
Review your profile information and click "confirm order"
Once your profile is complete, you may either print the information given or click "read here" to display it on your screen
Click the check box in order to agree to the terms and conditions and then click "submit"
The system will then process the enrollment – click "submit" to determine your account
You should now receive an email with a 6-digit authorization code – this code needs to be inputted into your vehicle's Entune system via the touchscreen display.
Begin enjoying your Entune 3.0 system!
How do I pair my phone with Entune?
To begin using the connected services and entertainment apps that are available on your Entune system, you need to pair your smartphone via Bluetooth. Follow these easy steps to pair your Entune system and your smartphone through Bluetooth:
Go to settings on your smartphone and make sure that Bluetooth is turned on for your smartphone and that your smartphone is discoverable
On your Entune system, press the menu button and select "setup" on the touchscreen display
Select Bluetooth on the left side of the touchscreen display and then select "add new device"
Select your device on the screen
Make sure the pin number on your phone matches the pin number on the display
Select "pair" on the touchscreen display – a "connecting" screen should appear
Either enable notifications on the screen, or select "skip" on the touchscreen
If you decide to enable notifications, turn on "show notifications" on your smartphone's settings menu
Your smartphone is now paired with your Entune device via Bluetooth, and is ready for you to begin enjoying all of the entertainment and service abilities it has to offer.
How to set up Entune voice recognition?
Entune voice recognition is a convenient and safe way to use your Entune system, make phone calls, open apps and more by simply using your voice. It is recommended that you train the voice recognition system first. For safety purposes and noise minimization, this should be done when your vehicle is in park. To set up Entune voice recognition:
Press the "menu" button, then select "Setup" on the touchscreen
Select "Voice" on the left of the screen
Select "Train voice recognition"
Press "Start" on the touchscreen and repeat the prompted phrases after each beep
Now that your Entune voice recognition is set up, you may begin using it. To use voice recognition to make a call, press the "talk" icon on the steering wheel and wait for the beep. After the beep, prompt the system by saying "call (phone number)". Once the system confirms your call, say "yes" or "call", or press yes on the touchscreen display. To end a call, press the hang up button (phone laying down) on the steering wheel, or select "end" on the touchscreen display.
How to use Scout GPS Link
Scout GPS Link is a helpful feature that assists you in navigating your day to day life. To use Scout GPS Link, first:
Download the Entune 3.0 App Suite Connect app and the Scout GPS Link app on your smartphone
Connect your smartphone to Entune with Bluetooth
Click the Scout GPS Link app icon on your phone and follow the prompts to set up the app
Select "Install" – ones it is installed on your Entune system, the icon will appear amongst your other apps
To use Scout GPS Link, select the GPS Link app on your phone, then select "APPS" on the Entune face plate and select "Scout GPS Link" on the list of apps. Enter your desired destination, and easily navigate your way there with the help of Scout GPS Link.
---
---