AutoSocks: A Safe, EASY Alternative to Snow Chains
Driving in the snow makes many drivers (understandably so) nervous. There are lots of ways you can make your snowy commute a bit safer, for example, switching from all-season tires to winter tires (Check out our blog post on whether or not you need winter tires here).
Many people rely on snow chains to get to work, the grocery store, or wherever else the snowy road leads you. But snow chains can be difficult to install and damaging to roads. That's where AutoSocks come in.
What are AutoSocks?
AutoSocks are a safe, legal alternative to snow chains. The quick and easy setup makes AutoSocks a great alternative to painfully difficult snow chains. AutoSocks fit a variety of vehicles, from cars to trucks, buses, vans and even commercial trucks.
How do AutoSocks work?
AutoSocks are made out of durable, high-performance textile material. When installed, they help provide safety, comfort and peace of mind behind the wheel in snowy and icy conditions. Using strong elastic materials with specific surface patterns, AutoSocks are able to increase traction when your vehicle meets snowy or icy conditions.
How to Install AutoSocks
One of the best things about AutoSocks (besides the added safety, obviously) is the ease of installation. Snow chains can be heavy and difficult to install. AutoSocks, on the other hand, are lightweight and can be installed in four easy steps. If you're more of a visual learner, check out the video above.
Put your vehicle in park and turn on your emergency brake. Make sure your vehicle is on a flat surface during installation.
Put on the gloves provided in your AutoSocks kit, for safety (and for a bold fashion statement). Then stretch the AutoSock around your tire from top towards the bottom.
Make sure that the elastic band is on the inner side of the tire, and pull it down as far as possible, until the front panel is centered. Do this on both front tires.
Once the AutoSock is in the proper position, with only the lower part of the tire exposed, get in your vehicle and move either forward or backwards about 2 feet. Hop back out of your vehicle and pull the rest of the AutoSock into the correct position. Once you begin driving, the AutoSock will automatically self-center. Easy as that!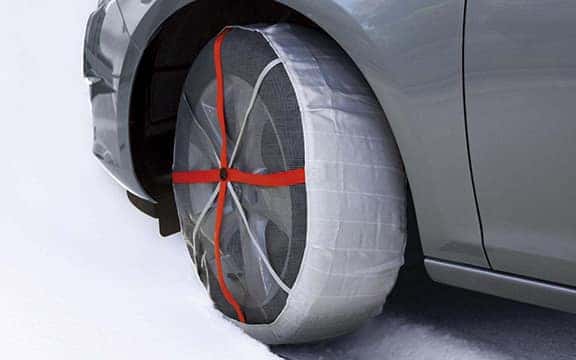 Starting at just $99.95. Contact us for your vehicle's specific pricing – (503) 582-9040
Want to learn more about AutoSocks? Leave us a comment below!