Common Questions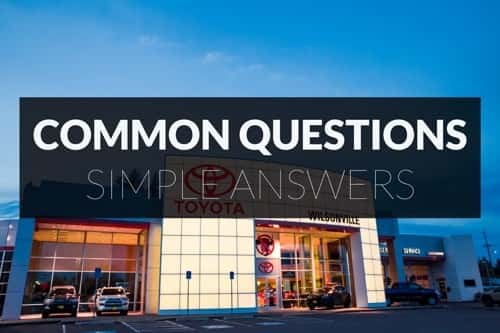 General
What's the Difference Between a Guarantee and a Warranty?
A guarantee is generally a promise of customer satisfaction while a warranty is a list of specific items that will be replaced or repaired should they break or need to be serviced within a predetermined time frame.
Vehicles
Where's My Jack?
Jacks can typically be found under the floor of your trunk, behind or under the seats, or within the trunk's side compartment.
Which Prius Is Best for Me?
The basic Prius—also known as the Prius Liftback—is a general-purpose hybrid that's perfect for the average driver. The Prius Prime is a more technologically advanced version of the base Prius. The Prius c is compact and great for city driving as well as parallel parking. And the Prius v is more spacious and intended for adventurous and/or family-oriented driving.
What Does ECO Mode Do?
ECO mode increases your vehicle's fuel efficiency by reducing its accelerator sensitivity as well as the power used by its air conditioning system.
What Does EV Mode Do?
EV mode is an all-electric driving mode specific to hybrids that only utilizes power from the vehicle's battery. This mode is typically only useful for short distances at low speeds.
Service
Does My Vehicle Need a Tune-Up?
Most likely, no. Unless your vehicle is particularly old, it shouldn't contain the mechanical parts that used to require tune-ups.
What Should I Do if My Vehicle Is Included in a Recall?
First, find your VIN (the 17-character number typically printed on the inside of your driver's door jam and/or near the bottom of your windshield). Once you have your VIN, you can enter it into sites such as recalls.gov, safercar.gov, and toyota.com/recall to get specific recall information about your vehicle. You can also call Toyota's Customer Experience Center at 1-800-331-4331 or contact your preferred dealership for recall information and updates.
Finance
What Costs Can Come Up When I Buy or Lease a Vehicle?
The simplest costs associated with purchasing or leasing a vehicle are vehicle price and interest. You can also expect to pay DMV costs linked to titling, licensing, and registration. If you want your dealership of choice to handle the document processing, you'll likely need to pay a document fee and an electronic filing fee. You may also need to pay DEQ costs if your vehicle requires an inspection as well as a county charge depending on your present county. Finally, if you're leasing a vehicle, expect to pay an acquisition fee and a disposition fee at the start and end of your lease respectively.